HID FARGO INK1000 Printer - Single Sided - USB
HID FARGO INK1000 is bringing the simplicity and affordability of inkjet printing to personalized cards and IDs, the INK1000 is the next revolution in desktop card printing.
How many cards your printer cartridge can print
There is no simple answer, it starts from 300 with a full edge-to-edge color design to 1,200 cards for a light design with a logo, texts and barcodes. It really depends on the color's coverage of your card design. Usually, images and photos use more ink and take longer to print than text, so we need to take these factors into consideration. It also depends on the print mode you choose, Fast or Premium. Premium will request more INK to print but the result will be a more contrasted card.
How long before ink cartridges expires
The ink is guaranteed 12 months from the date of manufacture while un-open, and for another 6 months from the time of opening and first use. We recommend storing the un-open cartridges in the original packaging in a dark cabinet or closet.
Here are a few best practices to ensure long-lasting, high-quality cards:
Barcodes
Print barcodes in Premium mode for crisp and fine lines and edges

Moisture
Keep hands dry — moisture or residue from cleansers and sanitizers can cause ink to bleed

Card Holders
Use rigid plastic card holders to eliminate surface wear and tear
QR code
Scan this QR code and see this product on your Smartphone with our Aptika Mobile App.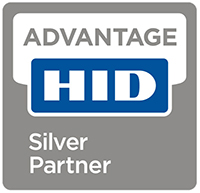 Is this product right for you?
Ask our experts! (800) 943-2341