HID FARGO INK1000 Printer - Single Sided - USB
HID FARGO INK1000 is bringing the simplicity and affordability of inkjet printing to personalized cards and IDs, the INK1000 is the next revolution in desktop card printing.
Side printing: Single side
Printing technology: Thermal inkjet
Resolution: Up to 600 dpi x 1200 dpi (23.6 dots/mm x 47.2 dots/mm)
Print speed: Up to 100 cph (cards per hour) / 36 seconds per card
Memory: 1 GB RAM
Accepted standard card size: CR-80 (3.370"L x 2.125"W / 85.6mmL x 54mmW)
Accepted card types: PVC, press polished PVC, composite (PET/PVC with PVC as an outer layer), laminated PVC (credit card construction)
Print area: TRUE edge-to-edge on CR-80 cards
Input card capacity: 100 cards (.030" / .762mm thick)
Output card capacity: Up to 30 cards (.030" / .762mm thick)
Optional encoding: Smart card (contactless)
Included software: FARGO driver including diagnostic utility with Color Assist™ spot-color matching
Warranty: Three years*
*Three-year warranty available with completion of online printer registration.
(A two-year warranty is standard without online printer registration.)
QR code
Scan this QR code and see this product on your Smartphone with our Aptika Mobile App.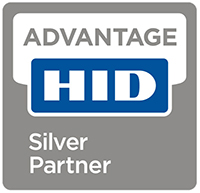 Is this product right for you?
Ask our experts! (800) 943-2341