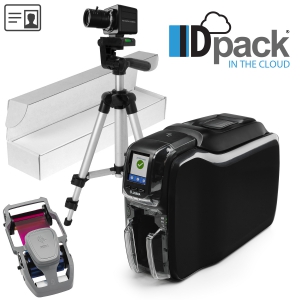 KIT 6 - Zebra ZC350 | Single-Sided
This Zebra ZC350 Single-Sided bundle with a highly graphical LED/LCD interface delivers the fastest print speed and advanced printing options that allow you to create virtually any card design you can dream up.
This Zebra Card Printer ZC350, single-sided photo ID system is the perfect solution for medium volume applications, such as Employee ID Cards, Certification Cards or Loyalty Cards.
The software allows you to create your own database and design your own card layouts. The webcam allows you to import a live image into the database. With its batch printing capabilities, this Zebra Card Printer ZC350 bundle offers high-quality output for printing 500 color ID cards effortlessly at a very competitive price. This ID system is the ideal solution for small organizations with frequent ID card printing needs.
Easy to use
Print full color ID cards
Compact and light
Two-year warranty on printer
High quality 300 dpi printing
This kit includes:
1 Zebra Card Printer ZC350 - Single Sided - USB & Ethernet (# ZC35-000C000US00)
1 Ribbons YMCKO Full Color, 300 prints (# 800350-550)
500 blank plastic cards (White) - 0.030" (#8030-WHP-NM)
1 IDpack in the Cloud - Business Plan (1 year subscription)
1 FHD Photo ID Camera with Optical Zoom (# APT-FHDUSB01VF)
1 Tripod (# TNX-25)
Recommended Articles
How Zebra ZC printers work great with IDpack in the Cloud
Zebra's card printers are the easiest to use, it's natural to pair them with the cloud-based ID card printing solution: IDpack in the Cloud. Click to learn more about why IDpack in the Cloud and Zebra card printers work so well together.
Zebra - DS2200 Series Product Video - Area Imager - 1D, 2D, QR code, PDF417 - Barcode Scanner
1D scanner can't capture the new QR codes, leading to exceptions that slow down the check-out process and frustrate customers at that key last personal touchpoint in your store. But with the DS2200 Series, you can scan it all.
How do ID card printers work? How It's Made You Ask?
Ever wondered how ID card printers work? Lets take a look inside an ID card printer when printing a CR80 plastic ID card (PVC). How It's Made You Ask?
Why Zebra's ZC350 May Be Your Best Card Printing Option
If you're in need of high-quality, dual-sided printing and you want a full array of options right out of the box, Zebra's ZC350 stands out as the best choice. The ZC350 prints at lightning-fast speeds.
A Special Thank You to our 1,000+ LinkedIn Followers
We are delighted to share that Aptika we have reached the milestone of 1,000+ followers on our company's LinkedIn page. A huge thank you goes out to everyone who follows us, likes our posts and shares our content.
New Photo ID Systems to print Plastic ID Cards
Aptika provides complete integrated photo ID systems to meet every special identification need at a very competitive price! Simply choose the Photo ID System that best suits your needs!
QR code
Scan this QR code and see this product on your Smartphone with our Aptika Mobile App.
Is this product right for you?
Ask our experts! (800) 943-2341