Magicard Prima 4 Uno
Prima 4 Uno Reverse Transfer printer is an ideal choice for producing top quality, single-sided cards.
The Prima 4 uses reverse-transfer printing technology. Images are printed onto a thin retransfer film in a "reverse image" and heat transferred onto the card. The quality of the finished card is comparable to off-set litho printing, but with the advantage that every card can be different.
New Prima 4 reverse transfer printer: 30% smaller, lighter & better value!
This printer is capable of...

Single or double-sided printing
Magnetic stripe or smart encoding
Over 10,000 cards per year
High print speed
Holographic lamination and UV printing
QR code
Scan this QR code and see this product on your Smartphone with our Aptika Mobile App.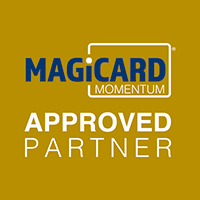 Is this product right for you?
Ask our experts! (800) 943-2341