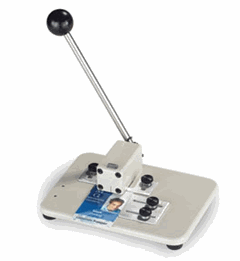 Heavy Duty Table Top Slot Punch - Adjustable
Table-Top w/ Adjustable Centering Guides - Heavy-duty
Table-Top Slot Punch w/ Adjustable Centering Guides - Heavy-duty
Punches cards up to 60 mil. Beige color blends nicely with most office decor.
Slot size: 1/8 x 9/16" (3 x 14mm)
Recommended Products
Clear Badge Holders - Vertical - Credit Card Size - 100 Pack

$45.00
$49.00
You save 8.16%
QR code
Scan this QR code and see this product on your Smartphone with our Aptika Mobile App.
Is this product right for you?
Ask our experts! (800) 943-2341