ID Card Dimensions, ID Card Sizes, ID Card Dimension information, CR80 Illustrator Layout
What is the size of CR80 in inches, millimeters, centimeters, or pixels? Here you can find the most common ID card sizes and download our free CR80 Adobe Illustrator CC layout to help you design your next unique id card. Cards are available in various thicknesses, from 10 to 50 mil. Check your card printer specifications to see what thickness it supports. With the growing interest in cloud printing, we have added the pixel dimension of CR80 cards.
What is the standard size of a PVC ID card?
CR80 is the standard card size, like a credit card.
How thick are CR80 cards?
30 mil is the standard thickness.
How thick is a mil in inches?
A "mil" is a unit of thickness equal to one-thousandth of an inch (.001 inch). To convert mil to inches, take mil and divide by 1000.

CR80 Card (also know as ID-1 or PVC card)
The CR80 format is the standard card size and is the most common format worldwide.

Dimensions:

3.375″ x 2.125″
85.77 mm x 54.02 mm
8.58 cm x 5.4 cm
1013 px x 638 px (300 DPI)
2026 px x 1276 px (600 DPI)

Corner Radius: .09″ (2.29 mm)

CR79 Card
Slightly smaller dimensionally than CR80 cards, made to fit in the well of a proximity card called HID 1326 ProxCard II Cards - Clamshell. After the CR80, the CR79 is the second most used worldwide.

Dimensions:

3.303″ x 2.051″
83.9 mm x 51 mm
8.39 cm x 5.1 cm
991px x 615 px (300 DPI)
1982 px x 1230px (600 DPI)

CR90 Card
Driver's license size; slightly larger than the standard CR80.

Dimensions:

3.63″ x 2.37″
92 mm x 60 mm

CR100 Card
Often referred to as oversize or military-sized.

Dimensions:

3.88″ x 2.63″
98.5 mm x 67 mm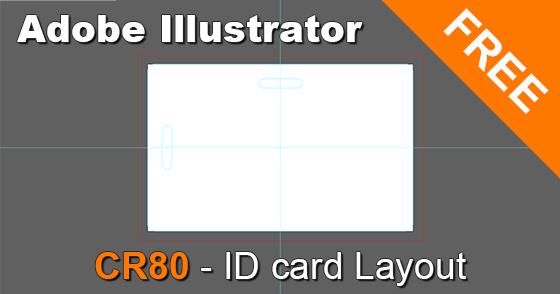 Download Free Adobe Illustrator CC Layout
Our free layout includes artboard cr80 size, center guides, corner radius guides, slot punch guides, and 1/8 bleed margin in .ai Adobe Illustrator CC format.
ID card printers like (Evolis, Zebra Technologies, Magicard, HID-Fargo, Team Nisca, Entrust, and others) use CMYK ribbons to print in full color; make sure the images you will print are in high resolution with CMYK color setting so that the color doesn't shift. 300 dpi is also highly recommended so your images and text appear sharp and clean. And at last, save your image in a format with no compression, like TIFF or PNG.
For maximum printing quality, always use vector ID card software like IDpack in the Cloud. Using SVG technology, IDC will always provide the best resolution using vectorial graphics. The quality will always be perfect whether you print 300 or 600 DPI.
Tagged on: id card dimension, cr80 size, id card size, ai layout, illustrator id card size