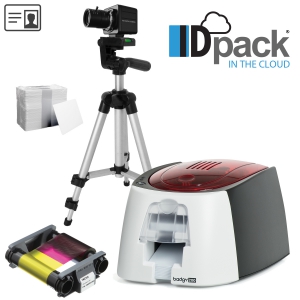 KIT 1 - Evolis Badgy | Single-Sided
The Evolis Badgy bundle provides you with a turnkey solution, for PC or Mac, consisting of a plastic card printer, IDpack in the Cloud personalization software, Photo ID Camera with Zoom, Tripod and a pack of consumables (color ribbon and 100 blank plastic cards).
An economical complete solution and easy to use
Evolis presents the
Badgy200
solution designed to help you print professional-quality color badges with perfect ease.
Badgy200 fulfills all your needs for graphic personalization and instant card production, as single cards or in small batches.
Printing: Single-sided
Encoding: No encoding option
Card lifespan: 1-3 years
Number of cards per year: Less than 500
Card security level: Standard
This kit includes:
1 Evolis Card Printer Badgy200- Single Sided - USB (# B22U0000RS)
1 Ribbons YMCKO Full Color, 100 prints
100 blank plastic cards (White) - 0.030"
1 IDpack in the Cloud - Element Plan (1 year subscription)
1 FHD Photo ID Camera with Optical Zoom (# APT-FHDUSB01VF)
1 Tripod (# TNX-25)
Recommended Products
Badgy100 & Badgy200 5 Panel Color Ribbon - YMCKO - 100 prints

$65.00
$82.00
You save 20.73%
Recommended Articles
QR code
Scan this QR code and see this product on your Smartphone with our Aptika Mobile App.
Is this product right for you?
Ask our experts! (800) 943-2341