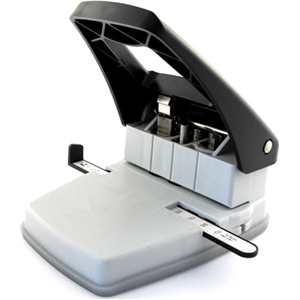 Warrior Versatile 3-in-1 Slot Punch
Warrior Versatile 3-in-1 Slot Punch is a top quality, effortless and precise paper and plastic punch
Warrior Versatile 3-in-1 Punch is a top quality, effortless and precise paper and plastic punch.
Durable, corrosion-resistant alloy steel punching device
The adjustable knob is easy and quick conversion for 3 kinds of functions:

Corner cutter - 4mm radius-cut
One-hole punch (1/4" hole)
Slot punch for namebadge or ID card (3x14mm)

Punching capacity: 20 sheets of 20 lbs paper or 1.0mm thickness plastic sheet.
Recommended Products
Vinyl 2.75inch 2-Hole Badge Clip - 500 pack

$87.00
$89.00
You save 2.25%
Clear Badge Holders - Vertical - Credit Card Size - 100 Pack

$45.00
$49.00
You save 8.16%
QR code
Scan this QR code and see this product on your Smartphone with our Aptika Mobile App.
Is this product right for you?
Ask our experts! (800) 943-2341